Licensed Electrlogist / Owner
Sara's intense interest in the well being of others has helped her to successfully complete the treatment of hundreds of clients. Their renewed self esteem provides great satisfaction to Sara. Her office policy ensures that each client is treated with a caring, personal attention administered in a clinical, private and restful environment. Sara is graduate of Marymont College. Her professional expertise and skill in electrolysis and aesthetics comes from both accredited schools and additional private training in New York, Philadelphia and Orlando. Presently, she continues to attends seminars in her field to keep current with the latest trend in the industry. Sara Picone began her own practice in the New York area in 1980. She is a highly skilled professional who specializes in the use of electro-pilation through the Modern Galvanic Method and Microdermabrasion with the MegaPeel system. Sara is also an electrologist instructor and she is a Board Licensed Electrologist and Aesthetician.
Highly knowledgeable in the advanced skincare field. Rosalie is passionate about seeing results for her clients. She is dedicated to her clients getting the most out of their treatments. She has over 15 years experience in our advanced medically oriented skincare. She has trained under our doctor to operate laser for both skincare and hair removal.
FNP-C, MSN, Certified Aesthetic Nurse Practitioner
Tatiana Kisluk, FNP-C, MSN, Certified Aesthetic NP is certified in Botox, Dermal Fillers and Nonsurgical Cosmetic procedures from the American Academy of Facial Esthetics. She earned her Master Degree with a concentration in Family Medicine at Villanova University where she was inducted into Sigma Theta Tau Honor Society, received the Anthony J. Janetti Scholarship and was awarded a Graduate Assistant position in research and administration. Tatiana also has become trained and certified in BioTe Hormone Replacement Therapy. She has years of experience in Emergency Medicine, Internal/Family Medicine, and Aesthetic Medicine. Tatiana has a passion for Aesthetic procedures and has a compassionate personality which makes her clients feel instantly comfortable around her. She is highly skilled in providing cosmetic rejuvenation by approaching each of her clients unique features individually. Her goal is to help them leave looking youthful and feeling their absolute best.
Christine is an advanced medical aesthetician. She works under our medical director doing laser treatments, advanced facials and microneedling treatments. She is result driven and she helps each client to achieve their goals. Experience over 10 years.
Carrie has 9 years of experience as a licensed massage therapist and Reiki practiti oner. Her caring and intuitive approach allows her to customize your massage to address your individual needs. She is also certified in Medical massage and has five years of experience providing massage to treat injuries. Her other modalities include, Swedish, Deep Tissue, Trigger Point, Hot Stone, Pre Natal, Lymphatic Drainage, and Cupping. She is currently working towards certification in Cranio Sacral therapy and looks forward to offering this modality in the future. Carrie is passionate about the benefits of receiving massage therapy on a regular basis and enjoys connecting with and assisting her clients in achieving a pain free and better state of well being!
Licensed Massage Therapist
Judith Pantoja is a Licensed Massage Therapist in the states of Delaware and Pennsylvania. She attended Deep Muscle Therapy School in 2007 and completed their 650 hour program. She continued on and got her licensure becoming a Licensed Massage Therapist (LMT) through the National Certification Board of Massage and Bodywork (NCTMB) in 2008. In 2016 she became Board Certified in Therapeutic Massage & Body- work (BCTMB); it symbolizes commitment, dedication, and expertise. She is also a member of the American Massage Therapy Association (AMTA). Her main focus is relaxation, wellness and pain management. She has over 200 additional hours of continuing education thus far including, Cold Stone Treatment for migraines, sinus headaches, allergies and headaches , Geriatric massage, Mu-Xing Therapy, Hot Stone, Cupping, Reflexology, Fibromyalgia, Myofascial Release Massage, Segmental Massage Therapy, Advanced Assessment & Therapeutic Massage for Injury Management, and Massage for Anxiety & Depression. Judith's main goal is to help clients achieve pain relief, relaxation, and balance through massage therapy. She is dedicated and passionate about her career and works incredibly hard to make a difference in each client she works with. Her greatest joy is hearing her clients tell her that they are no longer in pain and feel relaxed.
L.M.T. Medically Certified Massage Therapist
Kerry combines the fluid movements of Swedish massage with myofascial-release, trigger-point, deactivation, cervical-decompression, cranial-facial, and sinus-relief. Her massage sessions are designed to address immediate concerns, such as improved mobility and targeted pain-relief; while providing comfort and stress reduction. Your massage experience will bring you to a renewed sense of well-being. L.M.T. 0004025 AMBP member
Licensed Eybrow Microblade Artist
Anna is an Award Winning Fine Arts Portrait Painter and Licensed Eyebrow Microblade Artist in the Chester County area. She has combined her artistic talent to offer you a new-found confidence in beauty enhancement with permanent makeup. Awarded a National Scholarship and graduating with a BFA from Maine College of Art in 2006 her eye for painting portrait detail has given her an advanced opportunity as a Microblade Artist. Anna Knows firsthand the positive impact permanent cosmetic enchantment has been on her own self esteem so it is an honor for her to work with others gently complimenting their features. She holds her certification through Phi Institute being well known as world leaders in the permanent cosmetic industry. Traveling to NY she has had direct one on one, live model Microblade training by world renowed Microblade Masters. Anna keeps up with safety requirements working directly with Artists in the Tattoo industry to meet all Blood Borne Pathogen guidelines through personal training while also having received BBP certification. As a Practitioner, she is continuing her cosmetic education annually to stay up to date on all of the best products the beauty industry has to offer as well as participating in daily forums with some of the Leading PMU artists around the World.
Licensed Massage Therapist
Maria is dedicated to quality services and excellent care for her clients. In addition to being certified in many different massage techniques she also specializes in body wrap treatments and Bellanina facelift massage. Certified by NCBTMB. State license/Certificate: PA Experience: 11-20 years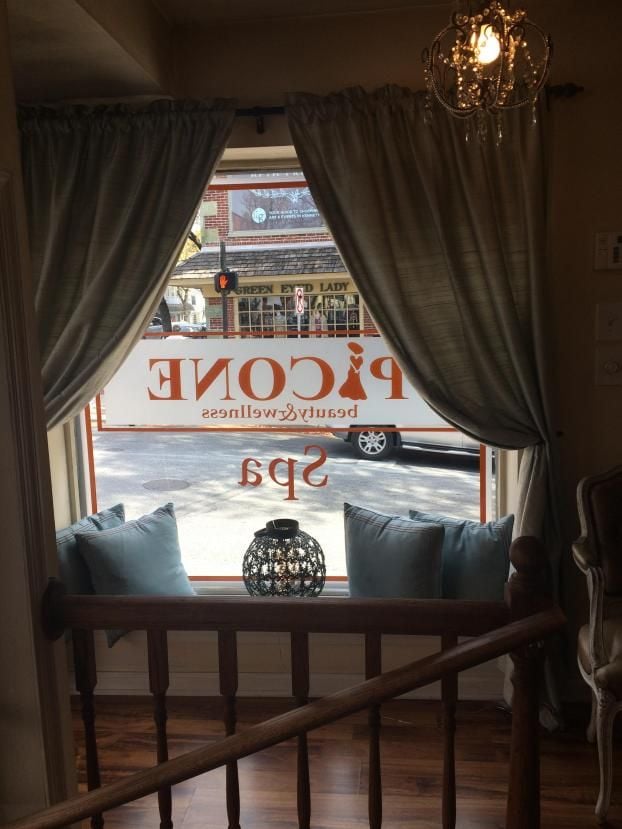 Fantastic experience all around! Rosalie is an excellent esthetician and reiki practitioner. She has a beautiful energy and therapeutic touch. She is highly intuitive and was able to detect where I needed healing the most. My session with her left me feeling relaxed and at peace. The massage therapists are also phenomenal – the best massage I've ever had! I highly recommend Picone Beauty & Wellness.

- Allison Celauro. 9/6/2019

Honestly the most relaxing thing I've ever done. I can't remember what the wonderful woman's name was, but her initials were C.S and the facial was AMAZING. I've never gotten one before but she was very patient and explained everything she would be doing before I layed down. 11/10. The interior is also really cute and relaxing.

- Alexis Fisher. 7/10/2018

I go to Picone spa regularly and they do great work. I've had microneedling by Rosalie and Anna, as well as Platelet rich plasma injections by Anna. I've also had electrolysis by Sara. I've never had any adverse effects or bad experiences, the treatments really work. The women at the spa are wonderful. They will bring out your beauty and will help you be your best self.

- Sujata Bhatia. 3/21/2017
Mon: 9:30am - 8:00pm
Tue: Closed
Wed: 9:30am - 8:00pm
Thur: 9:30am - 8:00pm
Fri: 9:30am - 8:00pm
Sat: 9:30am - 5:00pm
Sun: Closed